The single Take Me For What I'm Worth
Advertisement for the Searchers new single Pye 7N-15992 from Nov 65 entered the charts Dec. 16th 1965, went to no. 20 and stayed 8 weeks

from NME, November 1965

above and below: acetate, promo and different pressings from the UK

below: the first picture sleeve of a Searchers single, produced in the UK but only for export to Germany
Using Pye 7N 15992 it was released in the following countries:

Sweden (with picture cover, reached no. 4 and stayed in charts for 5 weeks), Denmark (pc), The Netherlands (pc, reached no. 25 for 7 weeks), Norway (pc), Ireland and New Zealand.

Factory sleeves were used in the following countries:

USA: Kapp 729, reached no. 79, stayed 5 weeks; Australia: Astor AP 1183, reached no.26 , South Africa: Pye Teal Records PY 85, Canada: Pye 797

Japan offered a nice picture cover for Pye LL - 883 - Y, in Germany only the UK-export single was available

above: Denmark

above: Japan
below: US promo A- and B-Side (Note: It's the second single from taken from the album, the first one is listed further below
| | |
| --- | --- |
| | |
| above: The Amercian single in its factory sleeve | above: label of the B-side |
left: The Australien issue of this great single with the extraordinary voice of Mike Pender

| | | |
| --- | --- | --- |
| | | left Canada, above Norway |

above: Sweden: As usual - a great picture cover below: The Netherlands
left: Factory sleeve and label from New Zealand

below: The single from Argentina with Does She Really Care For Me as b - side (Music-Hall 30.549) sung by Chris
Different singles - taken from the album
| | | |
| --- | --- | --- |
| | , | |
| , | Deutsche Vogue DV 14458 P, two pressings were made with different back covers (only one shown here). I'm Ready is sung by Mike and Chris, while Don't You Know Why - written by John - has a great Mike Pender lead vocal, assisted by Chris. | |
| | | |
| --- | --- | --- |
| Above and right: The second single from Sweden, once again a great cover. Just like in Germany I'm Ready was considered to be good enough for a single. (And I think so, too, although it got nowhere. | The b-side is a John McNally compostion, he also sings (mostly together with Frank) and plays the leadguitar. | |
In the USA already in October 1965 Kapp released You Can't Lie To A Liar / Don't You Know Why (Kapp K-706). Both songs were Searchers compositions. Chris and Mike share lead vocals on You Can't Lie..., Mike sings lead - assisted by Chris - on the other side.
| | |
| --- | --- |
| | |
| Extreme rare single from the Philippines: Pye - 303 | |
The (only) EP ...
... comes from Spain: Pye Hispavox HPY 337-20 with the following tracks: Take Me For What I'm Worth * I'm Ready * Don't You Know Why * You Can't Lie To A Liar (Leadsingers see singles).

Eps with same title were released in the UK, Israel, South Africa and Australia, but they all came out in combination with the next single Take It Or Leave It.

So these EPs will be part of the page about Take It Or Leave It.
The Album
The tracks & the singers:
1. Iím Ready (Chris & Mike) 2. Iíll Be Doggone (Frank) 3. Does She Really Care For Me (Chris) 4. Itís Time (John with Frank) 5. Too Many Miles (Mike) 6. You Canít Lie To A Liar (Chris & Mike) 7. Donít You Know Why (Mike with Chris) 8. Iím Your Loving Man (Chris & Mike) 9.Each Time (Mike with Chris) 10. Be My Baby (Frank) 11. Four Strong Winds (Mike, Chris & Frank, first solo vocal by Mike, second by Chris) 12. Take Me For What Iím Worth (Mike, chorus by John & Frank).
The back cover lists Mike Pender as vocalist, the three others as vocalists with the group. This causes the impression that Mike is the only leadsinger and the others only do back-up vocals. If you see the list above and listen to the record you will find that thereís a great variation vocally and instrumentally. Unfortunately this lp didnít chart in England.
There were two releases, one in mono Pye NPL 18120 and in stereo Pye NSPL 18120
Below: Front of the cover Below: From Record Mirror, December 1965
| | |
| --- | --- |
| | |
| | |
| --- | --- |
| | |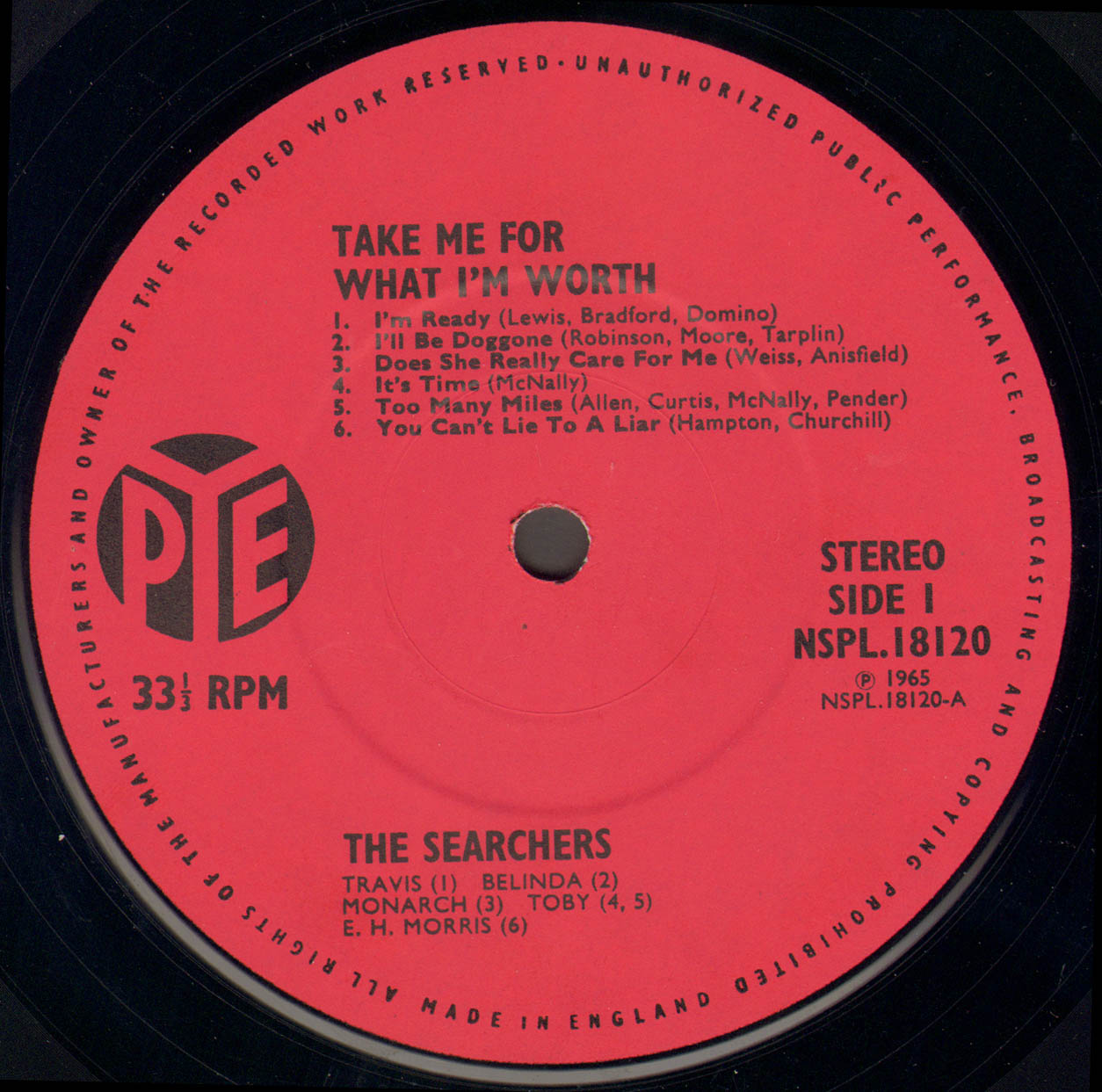 Other countries (except USA)
Canada Pye Alied Records NPL 30079 (mono) and Canada Pye Alied Records NSPL 30079 (stereo)
Argentina Pye Music Hall 12.511
Netherlands Pye Records NPL 18120
Philippines Pye Dyna Records NPL 18120
South Africa Pye Teal Records PL 2063
Australia Astor PLP 1148
New Zealand Pye Records NPL 18120

Releases from Argentina, South Africa, Australia, Canada and The Netherlands
The American LP(s)
September 1965 saw the first release of tracks from the upcoming British lp Ė three months earlier. It had 7 tracks from the original lp, two earlier singles (a and b sides) plus a song that would be an absolute rarity in the rest of the world: Iíll Be Doggone Ė sung by Chris Curtis (using the same basic track). In the early 90s this songs was first released outside the US on German, French and Rare Recordings (on the German Repertoire label.

The reason for this release was the moderate success of Goodbye My Lover Goodbye.

There were two versions: Kapp KL 1449 (mono) and KL 3449 (stereo)

It entered the US charts on November 6th, went to no. 92 and stayed for 8 weeks.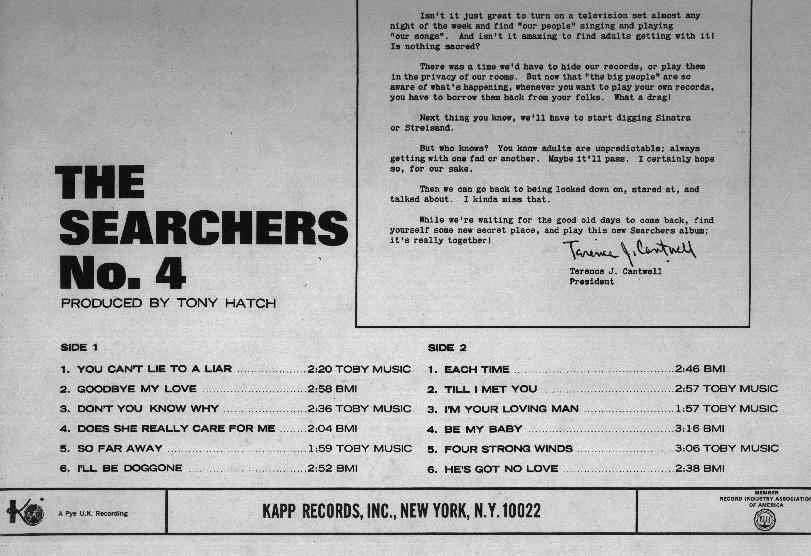 February 1966: The single entered the charts, Kapp needed another lp but there wasnít much left except the tracks that been omitted on the first release. But that didnít bother Kapp. In a hurry they pressed the American version of the lp only with a few new songs: Itís Time and Iíll Be Doggone (sung by Frank). The rest had been released before either as a single or on Searchers No. 4. Shame on Kapp and bad for the Searchers as fans blamed the group not the record company for such a policy.
The American version of the lp: Kapp KL 1477 (mono) and Kapp 3477 (stereo) didnít chart.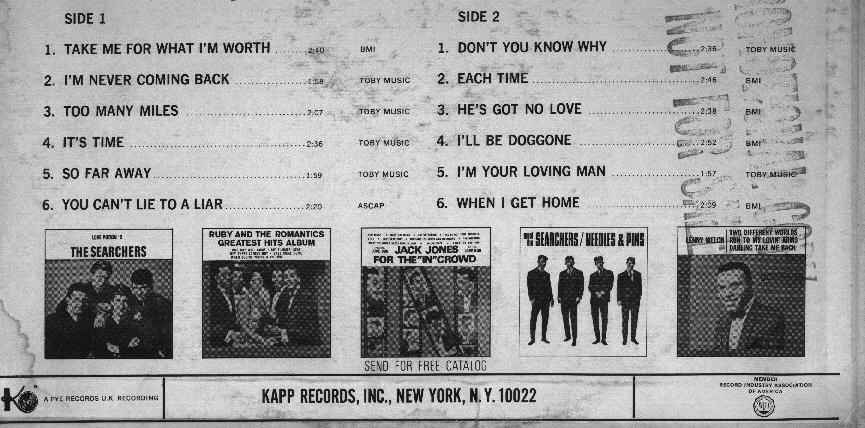 | | |
| --- | --- |
| | a slightley different shot; later used for the 10 inch lp: Love Lies Bleeding |
Once again thanks to Friedhelm who contributed quite a lot to this page.