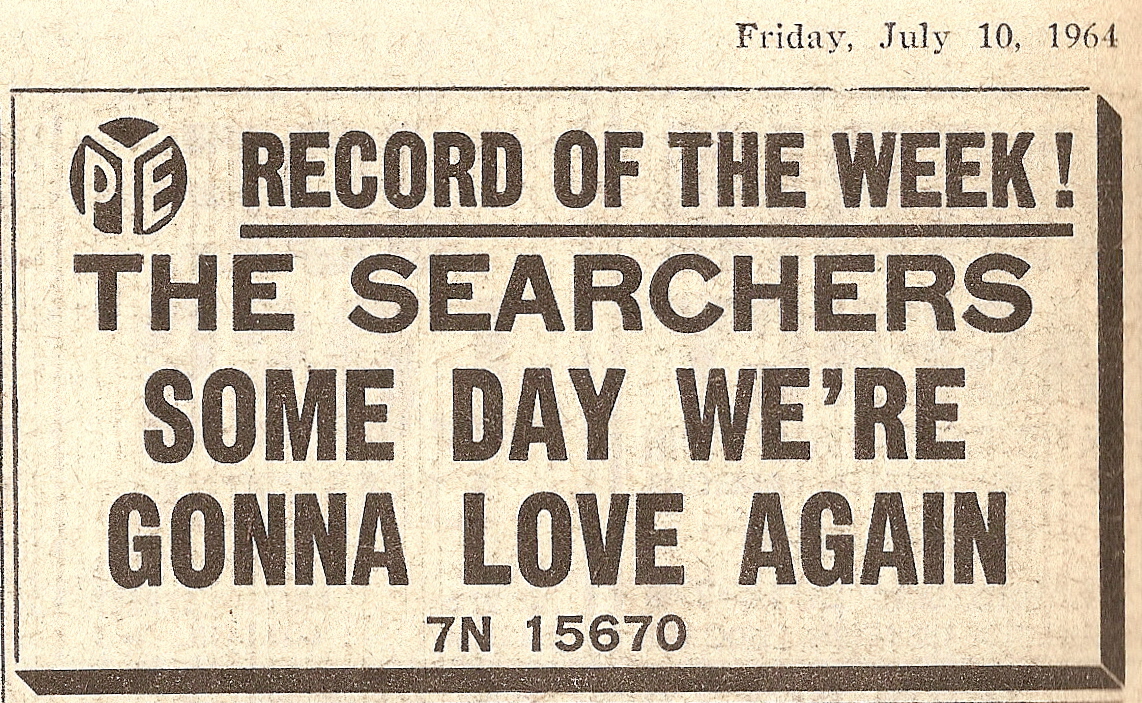 | | | | | |
| --- | --- | --- | --- | --- |
| Australia | Some Day We're Gonna Love Again / No One Else Could Love Me | Astor | AP 1063 | 1964 |
| Canada | Some Day We're Gonna Love Again / No One Else Could Love Me | Pye Records | PYE 741 | 1964 |
| Denmark | Some Day We're Gonna Love Again / No One Else Could Love Me | Pye Records | 7N 15670 | 1964 |
| Israel | Some Day We're Gonna Love Again / No One Else Could Love Me | Top Hits | 4566 / 4567 | 1964 |
| NL | Some Day We're Gonna Love Again / No One Else Could Love Me | Pye Negram | 7N 15670 | 1964 |
| Norway | Some Day We're Gonna Love Again / No One Else Could Love Me | Pye Records | 7N 15670 | 1964 |
| SA | Some Day We're Gonna Love Again / No One Else Could Love Me | Pye Teal Records | PY 5 | 1964 |
| Sweden | Some Day We're Gonna Love Again / No One Else Could Love Me | Pye Records | 7N 15670 | 1964 |
| UK | Some Day We're Gonna Love Again / No One Else Could Love Me | Pye Records | 7N 15670 Try | June 7th, 1964 |
| US | Some Day We're Gonna Love Again / No One Else Could Love Me | Kapp Records | K-609 | 1964 |
| | | | | |
| Germany | Some Day We're Gonna Love Again / Alright | Vogue | DV 14176 | 1964 |
| Japan | Love Potion Number Nine / Some Day We're Gonna Love Again | Pye Records | LL - 646 - Y | 1964 |
The single entered the NME charts on July 18th 64 at no. 15, up to 11 for three weeks, down to 15, 18, 29. A real setback compared to the preceeding hits. It did better in Melody Maker where it went (at least) to no. 6. Mersey Beat Magazine had it's own charts (see left)


Only other chart entry was in the US where it got to no. 35
A-side was sung by Mike Pender with Chris harmonizing, B-side, written by Chris, features shared lead vocals by Chris and Mike.

Spencer Leigh was the only one who ever interviewed Chris Curtis since the 60s. Spencer admits that he doesn't "go for" SOME DAY... Chris answered: "Well, DustySpringfield went for it ... We'd been working in the ice-rink at Blackpool and we had to fly back ... for the session. ... We flew down in the night, recorded in the morning ... I thought it was a good intro and the harmony is so high, it's like Graham Nash."
The ANNIVERSARY COLLECTION gives an insight into the way the Searchers recorded. The version of the song published there is rather different, a bit softer with less power and weaker vocals.
| | | |
| --- | --- | --- |
| | | |
| | | UK releases, including a single with a wrong tittle: YOU instead of ME, which was also used in many countries, see below |
above: Australian single, below the obe from Canada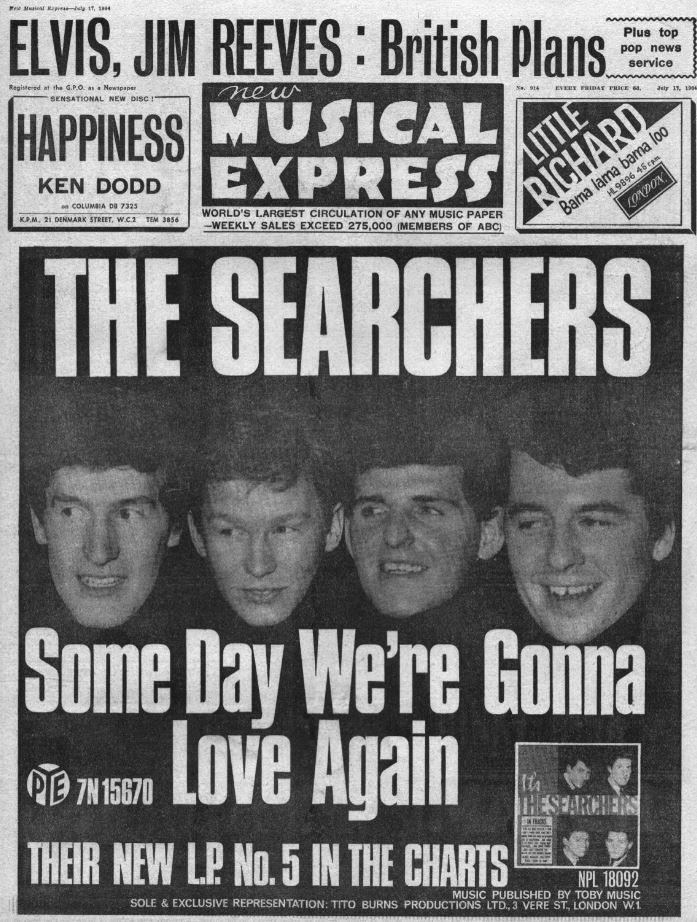 The b-side was a Chris Curtis compostion and sung by him together with Mike. A nice ballad. Read what Spencer Leigh and Chris said about this song in an interview from April 13th 2003:
SL initially said CC was innovative on adding drum sounds to the records, not totally sure I agree there, but CC said he was always adding little things, to give an example "No One Could Love Me" the "B" side of "Some Day We're Gonna Love Again" was played, in which it was explained that a basic drum track was laid down and then after listening to playback, CC added castanets and Spanish bells, in fairness if you listen to this track, it works effectively.

above: Cover from Israel and an article from DISC below: USA
below: Releases from Holland
left:

Sweden

New Zealand

Japan

below:

Philippes
left and below: German single
the right one is very rare
SOME DAY... turned out to be Tony's last Searchers single. In August 64 he left after being squeezed out of the group especially by Chris who didn't like Tony from the beginning. May be he already intended to get Frank Allen who was a close friend of his since the days in Hamburg.