October 1964 saw the unsual release of a Searchers single in the United States: Love Potion No. 9 b/w Hi Heel Sneakers. The Searchers were under contract by Kapp Records - but it came out as part of a special series: Kapp Winner Circle, catalogue no. KJB 27.
above and left:

three differnet pressings

of the US single

release date was October 1964

Highest positions:

Record World: 1

Cashbox: 2

Billboard: 3

Tony Jackson's voice was double-tracked.
If you ever wondered, why Kapp didn't use the regular catalogue number, read below:

Love Potion No. 9 was issued on Kapp's "oldies series" because of localised radio requests. (Both songs were previously issued as Lp tracks, neither were issued on US singles prior to this release). Normally a US label would release an older track as a single if enough industry buzz warrented it, Kapp refrained from issueing this on the regular series so it wouldn't compete with the currently available release (When You Walk In The Room)...well lo and behold the song took off, and The Searchers had their biggest US hit on their hands when 'Love Potion Number Nine" reached the # 3 postion nationally at the beginning of the new year. (Thanks to Beatle John)
the B-Side: Hi Heel Sneakers was also taken from This Is Us LP in the States (originally on It's The Searchers LP). Leadsinger is John McNally, his only lead vocal on a single.

(four different pressings!)
| | | |
| --- | --- | --- |
| | The song was also very successful in Canada, where it entered the charts in December 1964, reached number three and stayed for 15 weeks. (Pye P. 766) | |
| | |
| --- | --- |
| Germany (Vogue 14277) and Italy (45NP-5052) combined two hits: What Have They Done To The Rain and Love Potion No.9. Didn't chart in Germany, no information about Italy available. | |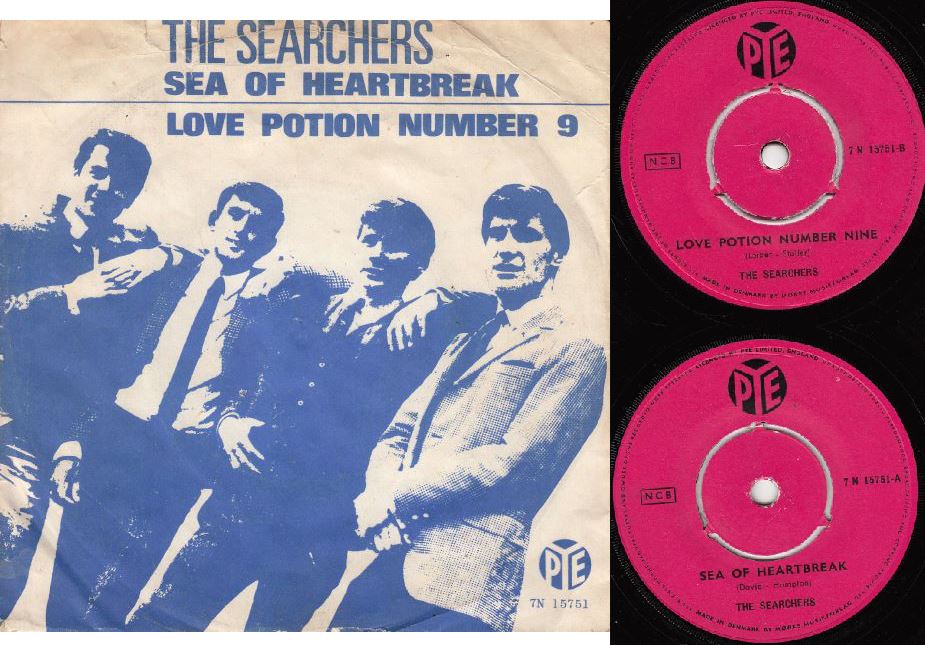 above: Danisch release, Pye 7N 15751
above: Single from Norway, Pye 7NN 1400, b/w Hi Heel Sneakers, above right: rare postcard single from Thailand.
EPs: Two EPs were release trying to make money with the success of Love Potion No. 9.
far left: Sweden, Pye NEP 5038, came out in 1965 including Don't Cha Know and Saints and Searchers from Sugar & Spice LP plus Saturday Night Out, B-Side og Needles and Pins.

left: Japanese EP, Pye LSS-302-Y, including It's In Her Kiss from It's The Searchers, Bumble Bee from Sounds Like Searchers plus What Have They Done To The Rain (single). Release year was 1966. Plays 33 1/3 rpm.

Earlier releases of Love Potion No. 9
see: Meet The Searchers page