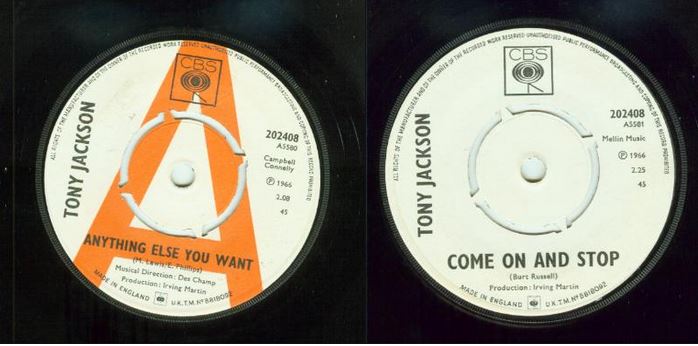 November 1966, Tony's last single on the CBS label (202408) was released, once again with no success. From the booklet of Just Like Me cd:
The same fate befell 'Anything Else You Want', a superb slice of powerful pop which continued the sculptured, heavily arranged style so beloved by CBS at the time. Even better was 'Come On And Stop', a thumping Bert Russell song on the other side, pushed along by some well-controlled fuzz guitar.
Four flops in a year: was too much for CBS to carry, and although Tony's Fan Club hinted of a switch from CBS to Philips at the end of '66, that wasn't to be. An EP of those first two CBS releases was prepared for European export, some leaked out into Britain, but it really was, as far as CBS was concerned, all over.